Share:
Pinecrest Golf Club Review
Fun to Play No Matter Your Handicap
By David Theoret
The Pinecrest Golf Club in Bluffton SC opened for play in 2004 and was designed by Rocky Roquemore, best known for his designs at Cannongate Golf Club in GA and several of the Disney courses in Orlando, FL.

From the back tees, Pinecrest plays 7,089 yards with a course rating of 74.7 and a slope of 139. Most golfers will be challenged from the White Tees at 6,079 yards (70.0/127). The ladies play from either 5,539 yards (72.8/132) or the Red Tees (5,062/70.8/120)

Pinecrest is owned and operated by Brown Golf Management who purchased the club on March 10, 2011 and opened it up for public play. The course is known for having a stunning and scenic layout and plays its way through strands of tall pines and around several beautiful lakes. Water comes into play on about 15 holes with number 9 being the only forced carry over water off the tee, although not a very long carry at that.

Sand bunkers pose more of a threat to your scorecard, especially off the tee. Every non-par 3 hole has at least one bunker on the edge of the fairway in the landing zone; par 5s have been strategically fortified with a second set of bunkers in the layup landing area, although they always seem to be on the periphery of the fairway. Greens are also well protected, with many of them being elevated. Speaking of greens, Pinecrest's are large and roll true; if you want to score well, best to not leave yourself a lot of long putts.

Most Memorable Hole: Number 11. The course's second hardest hole is a par 5 that plays 500 yards from the White Tees and requires an accurate tee shot due to the water on each side. You'll want to use the left side of the fairway on your layup but be sure to avoid the fairway bunkers over there and be careful of the water that juts out half way into the fairway. These bunkers should not come into play. From here you'll have a short pitch shot into an offset green. Three good shots and you can conquer this hole.

Favorite Par 3, Number 8. How often does the shortest hole on the course follow the longest? From the White Tees, the hole plays 137 yards although from the back tees it plays 224. You'll need to carry the water in front of the green off the tee and avoid the bunkers long. The green slopes slightly from back to front. Par is a good score here.

Favorite Par 4: Number 15, 276 yards. Although not the longest par 4 on the course it is the most interesting; the sand on the left side and water on the right certainly get your attention. Calling this hole a dogleg doesn't really do it justice; it's more like a sharp right turn. You can either try and carry the bunker on the left off the tee - it's a little over 200 yards -or play short of the bunker which will still leave a pitch shot of less than 100 yards to a two-tiered green fronted on the right side with water and a lone bunker behind. A third option is to try and fly the water and go straight at the green, but even long ball hitters will have to navigate the giant loblolly pine trees that guard the way.

Favorite Par 5: Number 7, 533 yards. This is the #1 handicapped hole at Pinecrest and for good reason. From the White Tees it plays 533 yards with water all down either side. The layup landing area is fraught with bunkers on either side and water comes into play on both sides for those who miss the fairway, although if you can clear the bunker on the left, you'll have a better line into the green. There's still water that guards the left side of the green, and a small bunker in the fairway makes it necessary for you to fly the ball on to the putting surface. This is a challenging yet fair hole.

Numbers 9 and 18 both play back to the clubhouse and their greens are separated by an enormous pond filled with wildlife. After your round, relax on the patio which overlooks these greens and see if your fellow golfers can fare any better on them than you did!

The practice area at Pinecrest is second to none and could very well be the best public access practice facility in the Bluffton area. There's a double-sided range, two large putting greens and a separate chipping green to hone your game. If you're still having trouble, check in at the pro shop and sign up for a lesson with one of their PGA professional staff.

After your round, stop by the 9 Iron Restaurant located in the clubhouse. They feature excellent food at reasonable prices, including fresh sandwiches, soups, salads and daily chef's specials. The jumbo Reuben is one of a kind or, if you're looking for something a little lighter, try their cranberry-almond salad. No matter what you're hungry for, odds are you'll find it here, as well as your favorite after golf beverage.

Brown Golf has some incredible membership opportunities available which are particularly attractive to those in the Bluffton area. A single membership includes unlimited golf at 7 local courses as well as reciprocals at all other Brown Golf Facilities around the country. You'll also receive access to the practice facilities and unlimited range balls as well as complimentary golf lessons from PGA professionals. That alone is worth the monthly dues. For more information or to book your next tee time at Pinecrest Golf Club, visit them at
www.pinecrestcc.com

Article Tags: Brown Golf, Pinecrest, Bluffton, Hilton Head, South Caroilna, SC
Revised: 06/20/2017 - Article Viewed 2,717 Times - View Golf Course Profile
About: David Theoret
---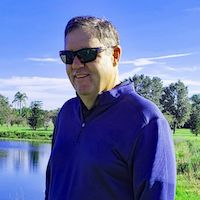 David Theoret has been in the golf and golf travel industry for over 10 years, primarily selling online advertising. For the past seven years, he has also been a golf writer, reviewing golf courses, resorts, destinations, equipment, golf apparel, and training aids - the latter of which never seems to help. David's articles and reviews have been posted on many golf travel and equipment websites.

Growing up in Southwestern Ontario, Canada, it was naturally assumed he would play hockey. Beginning at the age of 3 and continuing into his late 30's, he did just that. However, after one too many pucks to the head, he realized that golf was a lot easier on the body (whoever said hockey players were slow) and took the game up.

After moving to Florida and accepting a position with TravelGolf Media (now part of GolfNow) his love for the game grew exponentially. Most Saturdays you will find him on a course somewhere in Florida or on the practice range reinforcing his bad habits. David plays to a 10 handicap - unless there is money involved in which case it goes considerably higher. He currently resides in Lakeland, FL with his wife Belinda and their two "kids", Madyson and Molly.

---
More Articles by David Theoret