Share:
The Reserve Club at Woodside Plantation
- A Great Place to Play and Watch the Masters
By David Theoret
Now that I'm nearing retirement age, my thoughts drift to where I want to spend "the golden years." I lived in Florida for almost 25 years and that scene got tiring; the heat was oppressive, the traffic was terrible and the people were not the nicest. We relocated to the small town of Crossville, TN - the Golf Capital of Tennessee - and it's been great although the weather isn't quite warm enough for me. My wife would vehemently disagree; she loves a good cold spell and, for some odd reason, snow.

One area that has caught my eye is Aiken, SC, in particular a community known as Woodside Plantation. Woodside is a private, master-planned community in Aiken, S.C., a town that has been lauded by Southern Living Magazine as the "South's Best Small Town!"

Within the 24-hour manned gates of Woodside Plantation are more amenities than the average person will use during a lifetime, let alone during their retirement years. These include 4 golf courses designed by some of the game's biggest architects: Clyde Johnston, Fuzzy Zoeller, Rees Jones, Bob Cupp, and Nicklaus Design, over 15 miles of nature trails, 3 onsite medical providers, a myriad of racquet courts, 60+ member-led social groups and clubs, and much more.

There are two totally separate private country clubs inside the Woodside community: Woodside Country Club and The Reserve Club at Woodside Plantation. Woodside Plantation Country Club is a private country club with membership available to anyone inside or outside the gates. Pay an initiation fee, keep up on your monthly dues and you're a member. The Reserve Club at Woodside Plantation is a little more restrictive. It's a "mandatory membership" community meaning the only way you can become a member is to buy a home or homesite. The centerpieces at the Reserve Club are the two 18-hole championship golf courses: The Reserve Course, a Nicklaus design, and the recently completed Hollow Creek Course, designed by Fuzzy Zoeller and Clyde Johnston.

The Reserve Club opened in 2002 and has become a wonderful addition to the Woodside community, providing members world-class amenities right in their own backyard. Earlier this year, The Reserve Club recently transitioned into local club management after being managed by Troon Prive for the last few years.

The Reserve Course is an impressive Steve Nicklaus design that was named by Golf Digest as one of the "Top Ten Best New Private Courses in America in 2003," and is considered to be one of South Carolina's top courses year in and year out. From the back tees, The Reserve Course plays 6,995 yards from the Black Tees with a course rating of 73.6 and a slope of 134. Six sets of tees provide enjoyable yardages for just about any level of golfer. The scorecard shows 13 yardages and ratings.

As you make your way from hole to hole, you'll encounter rolling terrain with scenic vistas and plush fairways that lead to large, elevated greens. I found myself playing at a relaxed pace, taking in the beauty of the natural surroundings. From tee to green on each hole, it's just one beautiful, well-engineered golf hole after another. No matter how good or bad your game is, you're sure to enjoy yourself on The Reserve Course.

The 3rd and 4th holes on the Reserve Course are probably the most memorable back-to-back duo on the course. Number 3 is unequivocally the signature hole. It's a long downhill par 3 that plays 189 yards from the White Tees into a long green that is protected by sand and water on the left and in the back and more sand and water on the right. In case that's not enough, two giant hardwoods partially block the left side of the green. Find the middle of this multi-tiered green off the tee and you've accomplished something. Because of the 60-foot drop from tee to green, the hole plays considerably shorter.

Number 4 is the #1 handicap on the Reserve Course layout. This slight dogleg right plays 386 yards from the White Tees. It starts you off with a blind tee shot up and over a hill; the fairway bunker on the left side is reachable. What you can't see from the tee is the lake on the left side so it's best to favor the right side of the fairway. The fairway slopes right to left and keeping your ball on it for your approach shot is crucial. A good drive will leave a mid to long iron into a large, long green that is elevated and follows the contours of the lake. Finding the green in two is a job well done.

The second layout at The Reserve Club is the Hollow Creek Course, designed by U.S. Open champion Fuzzy Zoeller and architect Clyde Johnston, who is best known for playable courses with a premium on aesthetics and captivating shot values. Construction on the course started in 2007. The course was originally 10 holes, with plans to add the remaining 8 within a couple of years. Unfortunately, the recession of 2008 derailed those plans, however, two more holes were added in 2017. Earlier this year, the final 6 holes were added and the renovation was completed.

The six new holes wind their way around the Hollow Creek Land Preservation, a 110-acre natural woodland and wetland area. Each hole has been carved from the existing landscape providing golfers with some great views as they make their way around this meticulously maintained layout. Ask anyone that has played the new layout and they'll tell you what they remember most are the last three holes.

Number 16 is a pretty par 3 that plays downhill, so it is considerably less than the 195 yards on the scorecard. There's a rock retaining wall in front of the green with two bunkers on the left and one front right. Cunning Lake serves as the backdrop and only adds to the beauty of the hole. Miss this elevated green and you're facing a tough up and down.

For most players, the 487-yard par 5 17th hole is a 3-shot hole. Start with a tee shot over the corner of Cunning Lake, which runs up the entire right side of the hole. Playing up the left side off the tee and on your layup shot will still leave a mid to short iron over the lake into a very wide but shallow green. Number 17 is handicapped the hardest hole on the inward nine.

Number 18 is a scenic and challenging finishing hole that offers a great risk/reward opportunity. It's a 369-yard par 4 with a blind tee shot down a narrow, heavily wooded fairway. Your dilemma is that crest of the hill. You can chance it and hit driver to reach the crest; that will leave a short iron or wedge into the green. Or you can play it safe off the tee, hit a fairway wood or hybrid, and leave yourself a 150 - 170 yard shot downhill into the green which is protected by water short and bunkers long. The choice is yours!

Being located a mere 16 miles from Augusta, GA, you'd expect to find some big happenings around Masters time. And The Reserve Club doesn't disappoint, offering one of the best Masters Week Golf Packages in the area. Director of Golf John Keller has been at The Reserve Club for over 17 years and is pretty much the "Master of the Masters." The Reserve Club offers two daily Masters packages, The Club Package, which includes 18 hole greens fees, cart fees, range balls, and lunch. The more popular VIP Package includes unlimited golf as well as breakfast, lunch, and dinner, access to the VIP Masters Suite, complimentary bar service including beer, wine, alcohol, and soft drinks, cigar service, giant screen TV coverage of The Masters, and all-day access to all of the Reserve Club's practice facilities. The Reserve Club's Master Packages start at $250 and sell out quickly, so it's best to book early.

For more information on membership at The Reserve Club or either of their Masters Packages, visit their website at www.thereserveclubatwoodside.com.

Article Tags: Golf courses in Aiken south carolina, South Carolina golf courses, Reserve at Woodside Plantation, SC golf, Stay and Play golf in South Carolina, private golf clubs in South Carolina, Golf in Aiken SC, Golf in Aiken South Carolina
Revised: 12/13/2021 - Article Viewed 444 Times
About: David Theoret
---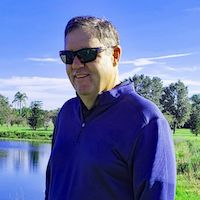 David Theoret has been in the golf and golf travel industry for over 10 years, primarily selling online advertising. For the past seven years, he has also been a golf writer, reviewing golf courses, resorts, destinations, equipment, golf apparel, and training aids - the latter of which never seems to help. David's articles and reviews have been posted on many golf travel and equipment websites.

Growing up in Southwestern Ontario, Canada, it was naturally assumed he would play hockey. Beginning at the age of 3 and continuing into his late 30's, he did just that. However, after one too many pucks to the head, he realized that golf was a lot easier on the body (whoever said hockey players were slow) and took the game up.

After moving to Florida and accepting a position with TravelGolf Media (now part of GolfNow) his love for the game grew exponentially. Most Saturdays you will find him on a course somewhere in Florida or on the practice range reinforcing his bad habits. David plays to a 10 handicap - unless there is money involved in which case it goes considerably higher. He currently resides in Lakeland, FL with his wife Belinda and their two "kids", Madyson and Molly.

---
More Articles by David Theoret